I've had an awesome week playing with all my new goodies .. From M&P to new extracts, to hydrosols, & new oils .. I've made Whipped Tallow Body Butter, a Super Intensive & Fanciful Conditioner, Toner, Face lotion, & all of these bars below:

Hempy Hands made with M&P base with Shea Butter, Crushed Fennel, Jojoba Sphere's, Mica, Charcoal, & BB's Wasabi FO ..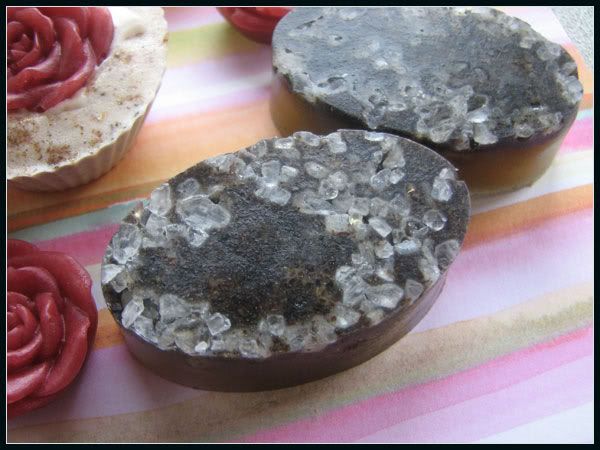 Sole Sloggers made with Hemp Base and extra Hemp Oil .. Seas Salt, Pumice, & ground Hemp Seeds .. (unscented)



Spicy Rose Guest soap - made with hemp base, Rosehip Oil, Ground Nutmeg, TD, Mica, Cosmetic Glitter, and my own blend of FO's ..
I've had a total blast making these, but sadly that's the end of my samples .. I'm tempted to buy more, but a little birdy did happen to mention they may just be sending me some *I'm spoilt!*
And I really want to move on to Syndet (solid shampoo) Bars next .. Sooo who makes them - any hints & tips to share with me - here or email me clear.marie [at] gmail.com if you'd rather not share your secrets with the world - err I mean people who read my blog :P
I still don't have the ingredients as they're not available in NZ, but am thinking a mix of SCI, SLSa, Coco Betaine, & some Poly/Decyl Glucose etc ..
~ have a fun & safe week-end everybody!